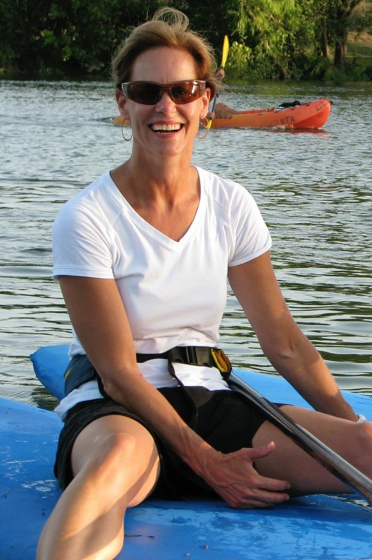 iGniter of  7.5 years
Roots:
I am a true native Austinite, born and raised as we say. I have lived here almost all of my life with the exception of some college and for a short time in Houston. I love the city and it just keeps getting better.
Family Life:
I have been married to Steve for 22 years. Steve has two "boys", Kit (33) and Andrew (30). Andrew is married to a wonderful woman, Caitlin, and they live in Seattle. Andrew is a landscape architect with a commercial firm, and Caitlin is in Public Health. Kit lives in Austin and does sports announcing for college games and professional soccer teams. He also has a radio show on The Horn. Steve and I have a daughter, Callie, who is a junior at Hamilton College in upstate New York. We have lots of fun together, but I'm not sure if and when I'll get her back to Austin!
Work life:
I retired from Stuart Title Guaranty Company soon after marrying Steve. I was the Director of Communications for their national office. With two boys at home, managing their activities, and becoming pregnant 4 months after getting married, we decided it was best for our family.
Biggest lesson learned through my iGnite experience:
I can do more than I think I can. It is so good to have positive reinforcements and cheering coaches. They have made me better at some things and pushed me to a new level. I also enjoy the women of the group–who knew exercising could be so much fun and rewarding!
Best advice given:
"The road of life twists and turns and no two directions are ever the same. Yet our lessons come from the journey, not the destination." -Don Williams Jr. (American Novelist and Poet, b. 1968) I really have to try and keep this in my head. I am such a planner, which can be a very good thing, but I forget to take everything in and enjoy the moment and the journey.
What I like to do in my free time:
I love to read and travel. Those are my hobbies with a little Mah Jongg thrown in. I think I caught the travel bug from my mother! We are going to the Amazon for 9 days in June.
My favorite color is:
Orange. My daughter says its because when I attended Camp Waldemar I was a Comanche, and their color is orange. There might be something to this, but I am drawn to the color in clothes, fruits, shoes and nature. It makes me happy.