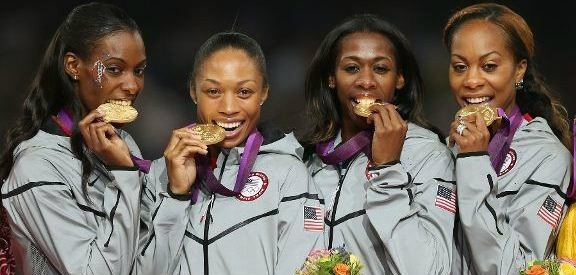 I am strong. I am special. I can do anything! Sometimes life throws hurdles in our path, but we just have to keep going full speed ahead, looking inside ourselves for the courage to leap over them and never look back. You are a strong and special person, and you can do anything. ALWAYS believe in yourself!
-Natalie Evans
Point To Ponder:
How often do you use the words "I can't" or allow an "I can't" mindset prevent you from being your best?
Action Item:
Be confident, have fun, and accomplish great things!
I'm not exactly sure why, but I particularly loved the 2012 Olympic Games more than ever before! I couldn't wait for the clock to strike 7:00 p.m. and for the inspirational competitions to begin. Honestly, I am disappointed that it has ended and we have to wait another two years for the Winter Olympics. However after having watched for two straight weeks I am feeling very motivated and excited to channel my inner Olympic athlete.
When you have confidence, you can have a lot of fun.  And when you have fun, you can do amazing things.
As I watched each night, one message rang loud and clear, which is that determination, perseverance and belief in oneself is paramount to becoming your best self. And, after being told about former Olympian Dominique Moceanu's amazing adopted sister's story, I've added a loving family to the list of necessities.
Jennifer is her name and she is not an Olympic athlete- however, what she has accomplished, without two legs, is equally as inspirational (or more) than any Olympic athlete I watched throughout the past two weeks. You be the judge, but my guess is that you, like me, probably won't be using the words "I can't" for while.
JOIN THE DISCUSSION- What have you told yourself you can't do? Is it really true? 
Related Posts to Motivate You: