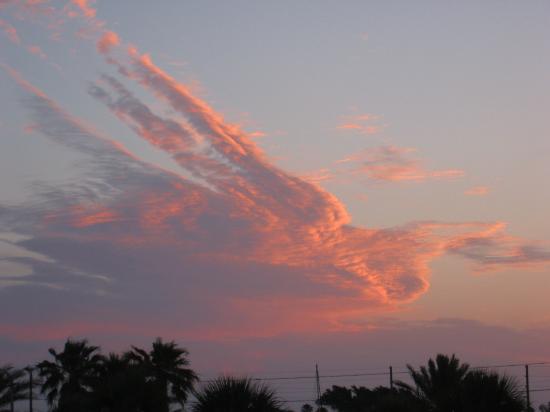 Angels come to help and guide us in as many guises as there are people who need their assistance. Sometimes we see their ethereal, heavenly shadow, bright with light and radiance. Sometimes we only feel their nearness or hear their whisper. And sometimes they look no different from ourselves. -Eileen Elias Freeman
Point To Ponder:
When was the last time you were touched by an angel or took advantage of the opportunity to be an angel to a total stranger?
Action Item:
Avoid assuming that you or the stranger next to you do not need an angel. Let someone be your angel and experience the intense gifts of love, compassion and humility so that you can enthusiastically pay it forward.
On Friday, I embarked on my first airplane adventure with my son Durant. My husband Russell's step-sister was getting married in Wisconsin on Saturday and because Russell was in Orlando for work, he was going to meet us Friday evening at the Milwaukee airport. Our flight schedule would take us from Austin to Kansas City and then onto Milwaukee. I must admit, I was very nervous to travel alone with Durant, however because I have seen plenty of moms do it with multiple children and I advocate for stepping out of comfort zones and trying new things, it knew was something that I could and would do.
To keep things as simple as possible, I checked only one bag and carried on a stroller and tote filled with Play-Doh, toy cars and animals, a slinky, a ball, bubbles, a book, crackers, suckers, diapers, wipes, an extra pair of clothes for Durant, my computer and finally the iPad filled with toddler-friendly apps and cartoons. Needless to say, I was terrified of getting stuck in an airplane or airport and running out of food, diapers or things to keep the busy 18-month old occupied. I needed and wanted to be prepared for anything.
Upon checking in, the Southwest Airlines agent informed me that we would be making a quick stop in Dallas to drop off and pick up passengers, however we would not change planes and would need to stay on the aircraft. So, after a quick and successful first flight, we made it to Dallas without any tears or meltdowns. Life was good, however things were about to get interesting and the 20-lb overflowing goodie bag would soon come in handy while my patience and sense of humor would be tested. (WARNING- THIS IS A FULL AND EVENTFUL STORY!)
As we landed, we were all told to exit the airplane and go to Gate 5, as another airplane would take us to Kansas City. This was a huge buzz kill, as transporting the heavy tote with a 30-plus pound toddler is not an easy feat. So, I confusingly headed to the gate to eventually only learn that we were not going anywhere! In fact, there were several airplanes with mechanical issues and the next available flight to Kansas City would not be until 6:00 p.m. It was 1:15 p.m. and we were not going to make it to Milwaukee after all. Therefore… I found a few empty seats so I could relax, catch my breath and make some important decisions.
As I dropped the bag and plopped down on the chair, I could hear the African American woman sitting next to me giggling and talking to Durant. I was preoccupied and completely unaware of what was happening just one seat away, however I quickly learned that while she was eating a slice of her pizza, Durant became intrigued and proceeded to open her box. I quickly excused him and apologized, however she insisted that he have a piece of her pizza. I didn't argue and thanked her profusely. Her name was Evelyn and she would become one of my airport angels.
As you would likely suspect, all lines to talk to agents were exceptionally long and I knew my chances of waiting with Durant were less than zero. So as any good mother would do, we headed to McDonald's and purchased a sandwich, fries, chicken nuggets and a giant Diet Dr. Pepper, as this was the best option in the Dallas Love Field airport and frankly, I would've even eaten Taco Bell, Long John Silver or Panda Express. Nutrition was the furthest thing from my mind and all I wanted to do was get settled, eat, and then begin planning our next move. So, we headed back to our seats, where Evelyn was watching our things and quickly became acquainted with several other angels.
For at least the next hour, we made ourselves at home while Durant entertained our seating area. From Bernie, the seventy-plus year old neurologist and father of seven, to a Paula Dean-like endearing grandmother, everyone was off-the-charts awesome and we were perfectly content!
After avoiding the agent line for at least an hour, I finally made the decision to go for it. The line was shorter than before, however it was still too long to stand in with Durant, therefore the very kind woman behind me saved our spot. During this time I chased Durant, literally, around the Southwest counter, where again, I apologized but the agents demanded that I let him continue as long as he was happy. In addition, they loved that he was wearing blue shirt (a Southwest color). After playing chase, he then took interest in my wallet, where he proceeded to take everything out and hand to a nice businessman, another angel who thankfully played along. Then, as fate would have it, an additional angel sat next to me and explained how quickly time goes by and advised me to embrace these sweet times. He was a businessman with children and I could tell he was missing them.
Soon enough, the line angel tapped me on the shoulder to inform me that it was my turn. I gratefully picked up Durant and headed to the counter, which he was eager to climb. The angel agent was both incredible and a professional multi-tasker too. As she stayed focused on explaining my flight options, she also grabbed everything that Durant pulled out of my wallet and handed to her. He was still very into this game and she played right along. To make a long story short (yeah right!), the best option was to take a 6:35 p.m flight back to Austin and scratch the trip. While we could get to Milwaukee, it wouldn't be until Saturday, which meant we'd have to spend the night in a hotel Friday night, without our checked bag, as it was going to Milwaukee. With only two diapers remaining and every overnight necessity in the checked bag, this was NOT a reasonable option. Therefore, I took my voucher and headed back to the gate where we hung out with our new wonderful friends.
Finally, at 4:00 p.m. Durant fell asleep which gave me the opportunity to relax and get reorganized. This was a delightful time, as it allowed me to get to know everyone and meet two new young men who joined the Gate 5 Family. One of the young men was engaged to be married and couldn't figure out why his fiancee signed them up for premarriage counseling. We all explained that this was a good decision that he'd eventually be grateful for. The other young man was an identical triplet of three boys and entertained us with his various funny stories.
Love is how you earn your wings. -Karen Goldman
Around 5:45 p.m. it was time to leave our friends. I said 'thank you' and 'good-bye,' while Durant blew kisses to all of them. It was bitter sweet but I was ready to get home. Very kindly, the engaged angel helped with my bag and stroller while I loaded Durant and headed to Gate 7. We sat next to a middle-aged woman and her husband, whom turned out to be another pair of angels. We said a simple 'hello' and she instantly began telling me her story. She explained that her daughter was in an abusive marriage in San Diego and she called that morning to ask if they would pick her up and move her back to Texas, with them. They had been anticipating this phone call for a year and without hesitation they purchased two one-way tickets and drove two hours from Santo, Texas to the airport, where they would fly to Austin and then to San Diego. They were overwhelmed with a variety of emotions and could not wait to rescue her. As we boarded, they offered to help with my bag and stroller and I graciously accepted.
As Durant and I entered the airplane, we found a seat next to young man, the final angel of the day, who kindly greeted us when we sat down. He was a student at Notre Dame, was interning in Dallas for the summer and flying to Austin to visit his cousin. Within forty-five minutes we landed and Durant was on his lap looking out of the window. It was an incredible sight and I thanked the Irish angel. As we exited, I wished the Santo angels good luck, told them 'thank you' and 'good-bye.' At this point, it was 7:45 p.m. and I was exhausted. We made it home in time to see the USA in the Opening Ceremonies of the Olympics, which was a treat.
Needless-to-say, I slept soundly throughout the night and woke up Saturday morning to an aching body and a fatigued mind, however my spirit was streaming with gratitude and humility, as there's no doubt that I had been touched by angels. I felt blessed to have met such wonderful people of exemplary conduct and virtue. I also wondered if they made it to their final destinations safely and were enjoying time with their families.
As horrific as Friday could have been, it was actually one of the single greatest experiences of my life and reminds me of the Liberty Mutual commercial, the video of the week. I'm sad to think that I will probably never see my angels in the airport again, as I'd like to give them all a hug and explain how much I appreciated their kindness and generosity. I would also let them know that I vow to pay their outstanding qualities forward and be especially sympathetic and kind to the next sweaty and desperate mom I see, who is frantically chasing her toddler and on the verge of a mental break down. Life just keeps getting more interesting and humbling and I'm a better person today than I was on Friday, all because I was touched by angels.
JOIN THE DISCUSSION HERE- When was the last time you were thankful for angels among you? 
Related Posts: 
We think you will also enjoy: