Summer afternoon—summer afternoon; to me those have always been the two most beautiful words in the English language.   ― Henry James
Yes, we love the outdoors, but we recognize that it is incredibly HOT outside! Most of us, after getting in our much-needed daily dose of fresh air and natural beauty in the early morning, are ready to head back indoors to stay as cool as possible. Therefore, we've been on the lookout for ideas for indoor summer fun. Here, some of our favorites:
Get lost in a bookstore. Our top pick? Book People, Austin's own quirky shop that will keep you occupied for hours. Wander freely, pick up anything that sparks your interest, grab a coffee and snuggle up in a comfy chair as you imagine future travels, learn about topics you've always been interested in or delve into a captivating story. In addition to books, there's a fantastic selection of cards, made-in-Austin jewelry and crafts, and quirky gifts and toys. Check out the staff picks for the insider's scoop on lesser-known treasures.
Catch a movie. Treat yourself to an experience outside the mall and head over to Violet Crown Cinema. Get there early, grab a cocktail or some food and make a fun night of it! Middle of the day? Even better! Matinees will save you some $$. This month we especially recommend going to see Bernie for some Texas-inspired laughs.
Explore a museum or two. Escape the hustle and bustle to broaden your horizons, learn something new or be inspired. UT's Blanton Museum of Art always has something fantastic in store.
Go bowling. We love Dart Bowl! Nothing says good ol' fashion fun better than bowling. What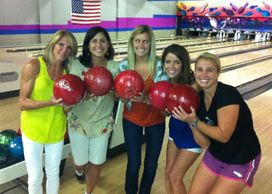 more is there to love? An Austin institution for over 50 years, snazzy matching shoes for the whole gang , bowling-pin-shaped beer bottles, some of the best homemade enchiladas in town (trust us) and a game suitable for every age and skill level. Don't forget your socks! Now, to come up with a great 4-letter scoreboard nickname…

Put on a pair of roller skates:
Head out to another Austin and iGnite favorite,
Playland Skate Center
for some more laughs and fun. There's something for everyone, including special adults-only nights, family skate nights and skating for fitness. Super skating skills not required.
JOIN THE DISCUSSION- SHARE YOUR FAVORITE TEXAS SUMMER PAST-TIMES!
Related Posts We Think You'll Enjoy: