You won't change until changing becomes one of your priorities instead of one of your options.
-Sonya Parker
For so many of us, May seems to have become 'the December of spring:' a month of hectic schedules replete with weddings, graduations, end-of-year performances, and on and on. Here, iGnite's founder Neissa Springmann shares the three steps that have helped her stay sane in May.
Step 1: Create Realistic Expectations

It is important to get in the right mindset — to have the right expectations before the mayhem of May begins. When we acknowledge that it is what it is – a hectic and busy month – instead of fighting against it, then things often run much more smoothly for us. Tell yourself, "ok, this month is going to be very busy, a little stressful and hectic– but that's just May!" Instead of being frustrated when things get overwhelming, you will have anticipated and accepted it. It is much easier to see a light at the end of the tunnel when you have already prepared yourself. After all, summer vacation is right around the corner!
Step 2: Get Organized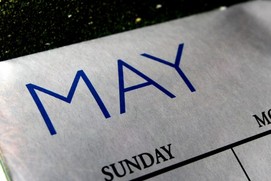 At the beginning of the month, get out your calendar and take a look at the month as a whole. Getting a complete, visual picture of the month's obligations takes away the feeling of 'the unknown' that often adds to stress.
Step 3: Prioritize

What are your top priorities for the month? Sit down and identify them. Then, make decisions on what is a "must-attend" event and what is an "okay to pass up" event based on those priorities. Often we get in "say yes to everything" -mode instead of taking a step back and realizing that it's ok to say no. Stay true to yourself and your priorities with your time, especially during hectic months like May.
One final tip: try your hardest to fit in some "me" time! While scheduling your kids' camps, activities, performances, etcetera, be sure to schedule something for yourself that provides you with a mental escape. Plug in a yoga class, coffee with a close friend or a manicure during one of your "slower" weeks and stick to it. Your mind will thank you!
Other resources we think you will like:
Related iGnited Posts: